The evolution of human resources for health policies in post-conflict Cambodia: findings from key informant interviews and document reviews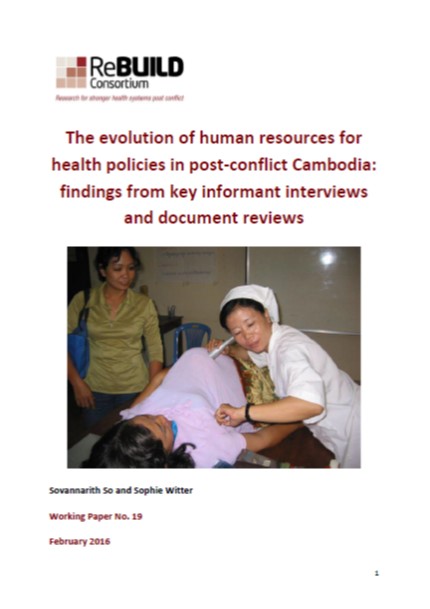 ReBUILD Working Paper 19. Sovonarith So and Sophie Witter. February 2016.
This working paper was an output of ReBUILD's research into the evolution of health worker incentives in four post-conflict contexts (Cambodia, Sierra Leone, Uganda and Zimbabwe) in order to understand how to establish equitable access to quality health care in these health systems.
The report presents the findings from Cambodia of two research tools – the document review and key informant interviews. It examines the post-conflict challenges for human resources for health (HRH) in Cambodia, how HRH policies responded and why, and what lessons can be learned about policy effectiveness, particularly focused on under-served areas of the country. The objective was to inform HRH policies going forward in this and similar contexts.
The report concludes that Cambodia made considerable progress in rebuilding its health sector and human resources for health since 1979. The journey was long for a number of reasons, including the two decades which it took to reach full peace, the destruction which had been wrought on the entire national system, and the extent of dependence on external support. The trajectory of HRH policies, which are closely linked with wider health sector policies, shows a high level of innovation with promising results, but also the challenge of moving from pilots to national schemes under government leadership. Enduring gaps between urban and remote areas remain to be addressed, alongside the need for adequate public remuneration which will allow vacant posts to be filled and the high levels of dual practice to be addressed.
You can download the full report here.